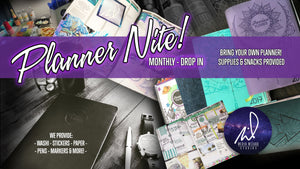 Planner Nite - Drop in
CALLING ALL PLANNERS, SCRAPBOOKERS & PAPER CRAFTERS!
Need a space to be in your GLORY with fellow Planner Fanatics! 
Raid our stash of Washi, Binders of stickers, pencil crayons, pens, markers & more!
SWAP ideas with others, bring friends and make it a monthly event!
Learn some tips and tricks about how to use your planner more efficiently, or to simply get yourself started! Planners are an awesome tool for setting goals, getting organized, planning out your day or week! Showcase all the things that have taken place in your life.
Dressing up your planner enhances all of your happenings and events into memories you cherish!
Nicole is truly a Wizard! And when it comes to planners, she can help you get organized and have fun doing it! Join her for fun planning and connecting! 
Bring your planner, all your goodies to decorate and plan!! This could include pens, washi tape, or stickers. Be prepared to have some fun, and get organized!
You can pre purchase your tickets online to save your spot! Spaces are limited!!
----------------------------------------------
Smiles, Snacks & Supplies are provided!
Super casual, relaxed atmosphere!
Drop in is $15 or BONUS: BRING A FRIEND AND YOU ALL GET IN FOR $10 each
This event is better suited for Adults or older youth. Please RSVP as space is limited.
---
We Also Recommend
---